We're already into the third quarter of 2018, and a plethora of hair trends have emerged since the year started. 2018 is the year of colour, and while the thought of having bright hair colours might be intimidating, there are actually a lot more ways to incorporate colour into your hair than you might think. If you want to play with colour but don't want to make too bold of a statement, this is the article for you. This article features hair trends ranging from natural to loud colours, and even subtle colour play that you can experiment with. Team Salon is the top salon in Singapore offering the best hair deals with colour retouch services.
Galaxy hair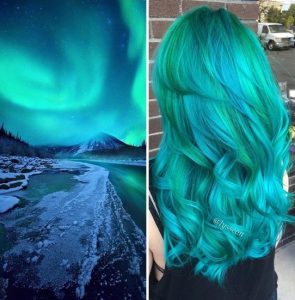 Galaxy hair has been one of the more popular trends for a while now. The saturated blend of galaxy colours will definitely add life to your hair and are for those who are willing to stand out in the crowd. It is a very fun and creative colour that enables you to tailor it to your liking. Do keep in mind that it comes with a compromise. It is highly recommended that you use minimal heat on your hair as the colour fades very easily if you do not take care of it and carry out proper maintenance. Also, if you do not already have blonde hair, be prepared to face copious amounts of bleach if you want to opt for this hair colour. You will also need to maintain your hair by going for regular treatments at the hair salon. If you want to add more dimension to your new hair, a digital perm is always an option. Team Salon is one of the top salons in Singapore to go to for such services. They are offering hair deals such as digital perm, rebonding and Nourishing treatment services.
Underlights
Underlights are the perfect solution if you want to be able to wear bright colours without drawing too much attention. It is a subtle look with colours peeking out from your natural locks. This is suitable for those who work in conservative lines of work that may not allow bold colours. A digital perm or rebonding will be able to complement your new colours well. Rebonding deals and digital perm services are available at Team Salon, giving your new hair an extra touch. Less damage will be done to your hair as you may only have to bleach a layer of your hair if your natural hair is dark. It also works on all hair lengths so do not fret, you will be able to try this out regardless of your hair length.
Jet Black Hair
Glossy jet black hair makes your hair look sleek and shiny, giving the appearance of healthy hair. While most people normally go for brown tones, people often disregard the beauty of jet black hair. It has a classy and elegant appeal which rarely goes unnoticed by others. Jet black hair can have purple or blue undertones, differing itself from natural black hair. It is definitely a statement colour and looks stunning. It also goes well with a digital perm or rebonding. Do keep in mind that black hair emphasizes a fair complexion. If you are already fair, it might make you look washed out and sickly. If you are unsure of whether jet black hair will suit you, you can consult a hair stylist at a local hair salon to get a professional opinion.
Balayage
Balayage is definitely one of the more popular hair trends that you should try at least once. It is a technique for highlighting hair to give a gradient look, which looks more natural compared to a full head of blonde, for example. The good thing about balayage is that you need not go back to the hair salon as often to get touch ups done. There are no obvious regrowth lines so you no longer have to worry about your roots showing as time passes. Traditional highlights are typically more uniformed compared to balayage hair colouring which is on the spontaneous side. Also, it works on both natural tones and funky colours. It waters down any bright colour, making it suitable for everyday so you can play with colours without looking over the top.
Extended root
Another hair colouring style you might want to try out is an extended root. By opting for an extended root, you will be free to have any hair colour you want without having to commit. It can be a hassle to have to go back to the hair salon every other month to touch up your roots and it can take a toll on your wallet as well. That will not be the case if you choose to go for an extended root as it blends your natural hair colour with your dyed hair, producing a seamless transition. Thus, there will be no need for touch ups at all. It is different from a balayage as it is not categorized as highlights, but more of a full dye. Keep in mind that not all colours might look good together with an extended root, such as colours like black and blonde. If you're in doubt, you can consult your hair stylist to see which colour will suit your natural hair colour the best.
Acid colours
This is a trend for the bold. Acid colours make a huge statement, and is definitely not for everyone. But if you love bright colours, this hair trend may be favoured because it lasts for a longer time without fading too quickly, which means you won't be heading back to the hair salon so soon for a touchup compared to a typical colour which requires bi-monthly visits. Unfortunately, if you aren't already blonde, this will also require bleaching which might damage your hair, so you might want to take this into consideration before visiting your hair stylist. Alternatively, you may also seek advice from your hair stylist to see what is best for you. Bright colours like these look best with a digital perm as it gives your hair volume and makes the colours stand out even more. Team Salon is one of the top salons in Singapore that is offering digital perm services.
Pastel shades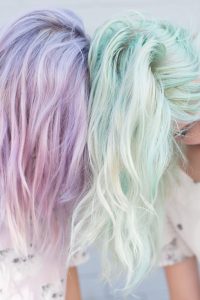 Pastel shades have given rise to many popular hair trends, namely the unicorn hair and mermaid hair. While they are a crowd's favourite, it undoubtedly comes with a price. Pastel hair tends to be more high maintenance due to how fast the colour fades. It requires upkeep and it requires frequent visits to the hair salon, as often as every two weeks to get a your hair colour touched up . It also requires a lot of bleaching, much more than every other hair colour as your hair has to be a pale blonde for the colour to show up true to what you want. Additionally, depending on your hair stylist and hair salon that you go to, they might have a different dye formula and technique compared to what you see online, so always be prepared to see differences in the final result. It is also important to nourish your hair after your trip to the hair salon, because all the hair chemicals would have stripped off your hair's natural oils. Team Salon provides hair deals such as Nourishing Treatment services which is something you can opt for to maintain the condition of your bleached hair.